Bernie Federko Bringing Back the High Five
An inspirational message from Bernie Federko:
"The sports world has been rocked over the past few seasons, when the most trusty multi-player celebration tactic – the high five – was effectively replaced by alternatives such as the fist bump and the "jump n' bump".
As a result, I've made it my quest – no, my duty – to get people back into high fiving as the standard celebration when the Blues score a goal. 
No one executes it better than me, and you can learn my skills by studying the multiple commercials we show during every single Blues game.  My student in those commercials is Ray Vinson from Vinson Home Mortgage and when we first met, he lacked the accuracy necessary to pull off a first-rate hand slap.  Now look at him executing like a pro…
Now I'm not high fiving this guy because he's paid me to do it while he blabs about mortgages. I'm high fiving him because not only are we watching the Blues game in suits, but we've got a huge bowl of popcorn in front of us, too.  The bottom line is, if you want to properly celebrate sporting events, popcorn, mortgage rates, anything, then toss out a high five to the guy sitting next to you. 
Don't let Maverick and Goose know that they did it for nothing.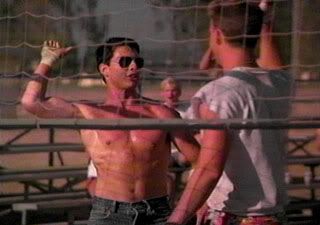 Go out today, find something to celebrate and toss out a high five to a stranger.  Tell them Bernie sent you."
—
E-mail: josh@joesportsfan.com
Twitter: @jbacott